Managers are the kind of people who get the group to repeatedly do the same thing over and over again hoping for continual and gradual improvement. It is the leader who leads the group in bold innovations when every one says, "we never did it that way before."
In his 1982 book A Passion for Excellence Tom Peters identified two factors that were consistent in excellent organizations: the first was "stay close to your customer." The other factor was to, innovate, and constantly innovate.
In my mid-twenties, I wanted to be the guy others looked to for advice and counsel about business and investments. The problem was, I was in my mid-twenties and few saw value in the advice and counsel of someone so young. The lack of demand for my advice was overcome when I accepted a position as an account executive trainee with Merrill Lynch, Pierce, Fenner & Smith.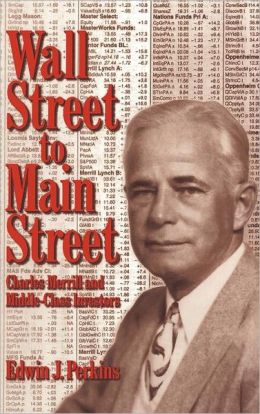 I quickly developed an appreciation for the vision of Charles Merrill who had enjoyed phenomenal success in the 1920's bull market by raising money for the emerging industries of motion pictures and grocery stores chain. Prior to the 1929 market crash, Merrill warned his clients that the stock market was overvalued and encouraged a conservative investment strategy that allowed him and his customers to preserve their wealth.  A decade later, the leaders of another brokerage firm, Pierce, Fenner and Beane, were in desperate need of money so they enticed Merrill out of retirement with an agreement to build on his experience with Safeway Stores to create a new kind of brokerage business.
Merrill believed the long-term health of the American economy required involving the average middle class American as active investors in stocks and bonds. He set out to bring Wall Street to Main Street and connect with middle-class America by recruiting and training people from their local communities. He was the pioneer in training brokers and was the first to use advertising to sell how and why people should save and invest for long-term goals. To reverse the public's negative image of stockbrokers, who earned their living from commissions and sometimes encouraged customers to make needless transactions, Merrill paid his brokers a straight salary and instituted a new profit-sharing plan to focus the employee's attention on the long-term. Charlie Merrill didn't innovate to compete: he innovated to change the rules, change the game and change the world.
Another fellow who influenced my youth began his career in commercial art, which soon lead to experiments in animation. He began producing short animated films for local Kansas City businesses, but ran out of money and his company Laugh-O-Grams, went bankrupt. Instead of giving up, 21 year old Walt Disney packed his suitcase and headed for Hollywood to start a new business.
Walt's brother, Roy O. Disney, was already in California and they joined forces. They borrowed $500 from their uncle and set up shop in the uncle's garage. They spent most of the money to acquire a very expensive piece of new technology, a camera that could turn individually hand drawn illustrations into animated moving pictures. Walt Disney turned that $500 they borrowed in 1925 into a multi-billion dollar company on the simple principal of Dream, Believe, Dare, Do. Walt said, "I dream, I test my dreamy beliefs, I dare to take a risk and I execute my vision to make the dreams come true." For Walt Disney innovation was not a one-time event, it was a continuous process.
Historically, innovation has been thought of as the responsibility of the research and development department. More and more we are realizing that businesses need to create processes focused on innovation. Edward Deming tells us that, "95% of failure is in the system, not the people." We need to implement systems and process that encourage and reward innovation.